The Red Sox are set for a repeat performance of their 86 year drought ending World Series sweep against the Cardinals in 2004 as they stand poised to shut out the Rockies as they just wrapped up game Three of the World Series for their third consecutive win of the first three games to bring the standings 3-0 with the Rockies on the verge of being shut out. Be sure to watch tonight's 4th and last? World Series game at 8pmEST.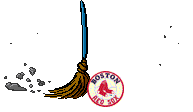 Some highlights from last night's game:
Rookie Jacoby was the star of the night being the second Rookie in World Series history to score two doubles in one inning. He also became the first rookie in 61 years with four hits in a Series game, getting three of Boston's seven doubles. By inning 3 the score was 6-0 the Red Sox. The Colorado Rockies rallied in the bottom of the 6th, bringing in 5 runs to only be trailing by one. But the Red Sox were quick to snap back from complacency, keeping the Rockies from scoring anymore the rest of the game and managed to finish up the longest 9 inning game in World Series history (4 hours, 19 minutes long to be exact) to win it by a sizable margin, 10-5.
Things to take note of going into game 4.
No team in the 103 year history of the World Series has come back from a 3-0 deficit to win the World Series, putting the Rockies in a rather rough position. They are off to a... rocky start (ahem) to say the least. Between a rock and a hard place as it were. The Boston Red Socks were the first team ever to come back from a 3-0 deficit in the World Series playoffs for the Pennant against arch rivals the New York Yankees in 2004. The curse really seems to be broken.
Click here
For more on the Red Sox and the World Series